FAO/Giampiero Diana
On February 3rd, I posted a blog entitled "Worst Desert Locust Outbreak in 25 Years". Since then the area suffering from this almost biblical plague, has increased dramatically and is showing signs of continuing to spread.  A spread that will only grow as the next generation of the Locust hatch and take flight. As the "East African" states:
Second wave of locust invasion to hit in two months 
It does not look good for some of the most food insecure areas of the World and now throw in a World panicing over the Covid19 coronovirus and it does look like it is becoming almost biblical in nature. Add all of the political turmoil and wars in these areas to the mix and we are looking at a disaster.
Locust Plague – Page begun 03/04/20 –

East

 

Africa and Westward
UN urges rapid measures as desert locusts invade Ethiopia, Kenya and Somalia – Xinhua | English.news.cn –

posted 01/27/20
Kenya suffers worst locust invasion in 70 years, FAO warns infestation may worsen – posted 01/30/20
Worst desert locust outbreak in 25 years threatens food security across East Africa: UN – Xinhua | English.news.cn – posted 01/31/20
Locust outbreak approaches full blown crisis in East Africa –

posted 02/02/20
Uganda to deploy soldiers to tackle locust invasion – The East African –

posted 02/10/20
Act now to prevent Desert Locust catastrophe in Horn of Africa: UN agencies | UN News –

posted 02/10/20
Uganda approves $1.8m in efforts to fight locust invasion – The East African –

posted 02/12/20
239 million people in sub-Saharan Africa suffer from hunger and malnutrition –

posted 02/15/20
Second wave of locust invasion to hit in two months – The East African –

posted 02/17/20
Asia Album: Locusts swarming raises concerns in Pakistan – Xinhua | English.news.cn –

posted 02/17/20
Locusts swarm into South Sudan as plague spreads – Reuters –

posted 02/18/20
'Nothing left': Kenyan mother's fields stripped by locust swarm | The Star Online –

posted 02/19/20
South China may be invaded by locusts | The Star Online – posted

02/20/20
Massive swarms of locusts invade Saudi Arabia –

posted 02/22/20
East Africa's huge locust outbreak now spreads to Congo –

posted 02/25/20
More funding needed to combat locust swarms 'unprecedented in modern times' | UN News –

posted 02/25/20
Army of 100,000 Chinese ducks on standby to combat locust swarms, East Asia News & Top Stories – The Straits Times –

posted 02/27/20
Locust hatchlings in Kenya pose threat to crops – The East African –

posted 02/29/20
China urges authorities to prepare for possible locust invasion – Reuters –

posted 03/03/20
Pakistan struggles to combat devastating locust plague, South Asia News & Top Stories – The Straits Times –

posted 03/04/20
The Big Wobble : Desert Locust update: New swarms forming in Somalia and Kenya: Swarms hitting 20 countries spanning thousands of miles from the Western border of China to the Western coast of Africa Down the Horn of Africa to Tanzania –

posted 03/06/20
Ethiopian govt calls for international support to contain "very severe" desert locust outbreak – The East African –

posted 03/06/20
A man in Baringo Central in Kenya's Rift Valley on February 23, 2019 chases away a swarm of desert locusts that invaded the area. PHOTO | FLORAH KOECH | NATION MEDIA GROUP 
Desert Locust situation update – 10 March 2020 – Kenya | ReliefWeb –

posted 03/12/20
Desert Locust situation update 17 March 2020 –

posted 03/18/20
The Big Wobble : Desert Locust upsurge in East Africa, the Arabian Peninsula and Southwest Asia after widespread rains leading to a dramatic increase in locust numbers: Millions suffer acute food insecurity

– posted 04/10/20
Locusts set to hit Kenya, East Africa again, 400 times stronger — Quartz Africa –

posted 04/10/20
'Unprecedented threat': New locust outbreak threatens millions in eastern Africa –

posted 04/12/20
New, larger wave of locusts threatens millions in Africa –

posted 04/12/20
The Big Wobble : While the eyes of the world are on Covid-19, East Africa, the Arabian Peninsula, Southwest Asia and Pakistan continues to struggle with another crisis of biblical proportions: Growing mega-swarms of ravenous locusts. –

posted 04/17/20
Second wave of two new generations of locusts will leave EA starving, warns FAO – The East African –

posted 04/18/20
Somalia races to save livelihoods as new locust generation spawns –
Thomas Reuter Foundation –
posted 04/20/20
21 APR 2020. SWARMS CONTINUE TO MATURE IN EAST AFRICA –

posted 04/21/20
Second wave of locust invasion and floods to shake East Africa economies –

The East African

–

posted 05/02/20
Second and unprecedented wave of locust invasion expected to hit Pakistan –

The Watchers

–

posted 05/08/20
Battle 'not yet over' against locust invasions in East Africa and Yemen | |

UN News

–

posted 05/11/20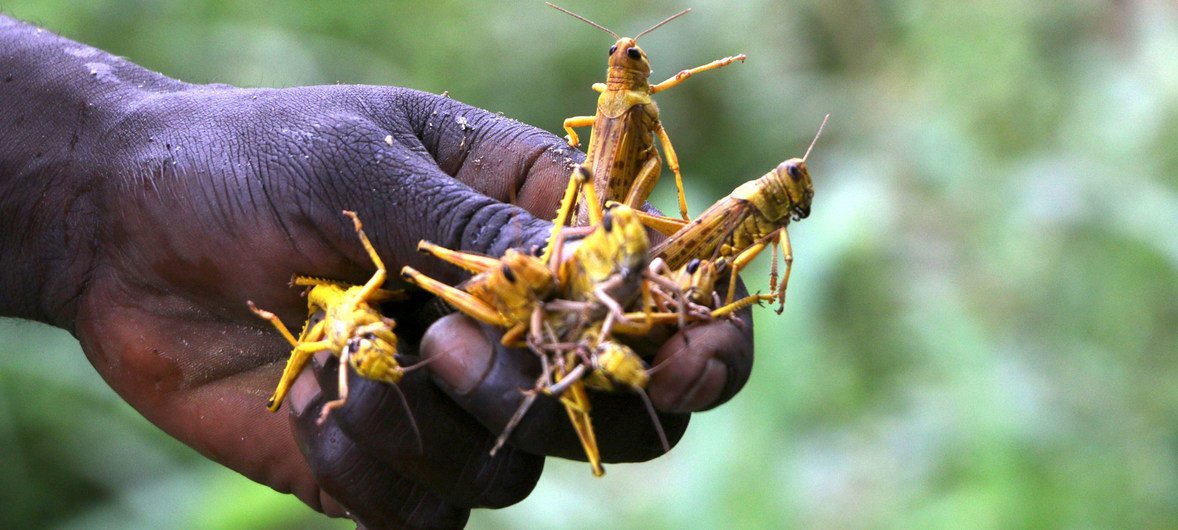 Pakistan readies for second battle against crop-devouring locusts –

Thomas Reuter Foundation

–

posted 05/16/20
Locusts cover a tree in Bhadi, a village in Umerkot-Sindh, Pakistan, November 7, 2019. Thomson Reuters Foundation/Manoj Genani
Fighting locusts in the heat of Covid-19 pandemic –

The East African

–

posted 05/18/20
National Youth Service personnel spray locusts in Marsabit County, northern Kenya, on May 10, 2020. PHOTO | SALATON NJAU | NATION MEDIA GROUP 
Haryana issues alert after locust swarms enter Rewari, Gurugram districts |

Business Standard New

s –

posted 06/27/20
Locusts invade satellite city of India's capital, South Asia News & Top Stories –

The Straits Times

–

posted 06/27/20
The Big Wobble

: Locust swarm reaches Nepal: East African swarms charging West: Swarms from Saudi Arabia, Somalia, Kenya and Ethiopia are expected to migrate westwards through Sudan, Chad, Niger, Nigeria, Mali and Mauritania –

posted 07/05/20